About FIRST
"To transform our culture by creating a world where science and technology are celebrated and where young people dream of becoming science and technology leaders." -Dean Kamen, Founder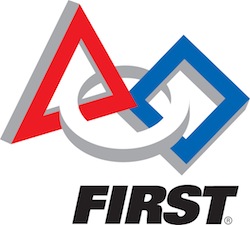 FIRST (For Inspiration and Recognition of Science and Technology) is a nonprofit organization founded by Dean Kamen in 1989. His goal was to expose students of all ages to science and technology in such a way that they would become inspired to become scientists and engineers in the future. Kamen worked with MIT mechanical engineering professor Dr. Woodie Flowers to create the first ever FIRST Robotics Competition (FRC) at a New Hampshire high school in 1992. From that point on, FIRST has grown to be one the largest robotics competitions in the world. The program has over 250,000 students working on 22,600 robots with the assistance of over 68,000 mentors and 33,000 volunteers from all disciplines such as engineering, fund raising, and team leadership (project value, usfirst.org). The program also expands beyond US borders to over ten countries like Israel, Brazil, Japan, and even Australia.
FIRST have four main levels of competition: Junior FIRST Lego League for ages 6-9 (JFLL), FIRST Lego League for students in grades 4-8(FLL), FIRST Tech Challenge for students grades 9-12 (FTC),
and The FIRST Robotics Competition, also for high school aged students (FRC). The ÜberBots compete on the FRC level, which is also the largest level of competition. Around the first or second week in January, FIRST releases a challenge for FRC students as well as a rule book with very specific details concerning the size of the robot, details about game play, and more. Students then have six weeks to design, build, and program their robots in order to be shipped by a certain date. After ship date, students are not allowed to touch their robot until competition, where they compete on an international level. The winners of each of these regional events move onto the Championship tournament in St. Louis, Missouri. This allows FRC to always been exciting, for no two games are ever the same. Starting from the end of the Championship event, the FRC Game Design Committee (GDC) starts working hard on the next game so it's almost perfect by kickoff (there are always constant updates being made, even between regional competitions).
A video about FIRST and robotics from CBS News
Watch a video by CBS news about robotics, including information on FIRST and footage of our team from 2009 (Look for blue shirts and red capes)!